News
Winter Skin: One Treatment Jordan & Petersen Skincare Founders Recommend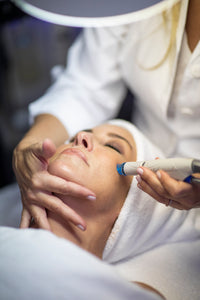 One of our most requested treatments is our own signature treatment created around HydraFacial – click link for more: https://www.youtube.com/watch?v=B8jTnd2rnTY
Naturally, glowing skin doesn't just happen, well….maybe for a lucky few. But for the rest of us, we may need a little help now and then. When it comes to facials, we are surprised at the lengths people will go to with severe treatments before giving their skin the very basics of a great facial and skincare routine to begin making changes and improvements. So, when a treatment comes along that's rare enough to be equal parts gentle andeffective, it's enough to make everyone take notice. The HydraFacial is just that – In a matter of minutes, this skin-perfecting treatment removes dead skin and infuses your complexion with hydrating ingredients for a healthy, plumper and beautiful overall look.
As estheticians who practice HydraFacial treatments on our clients regularly, we know a thing or two. Let us walk you through the details of what this facial entails and identify who the best candidates are.
What Is It?
This is a non-invasive, multi-step treatment that combines the benefits of next-level hydra dermabrasion, AHA blended peels, automated painless extractions, and a special delivery of antioxidants, hyaluronic acid and peptides. It does all of this in one quick treatment that delivers real results with no downtime or irritation.
What Makes It Different?
What sets HydraFacial apart is a unique technology called Vortex-Fusion. This set of tips is what draws out impurities, exfoliates the skin and deeply infuses nourishing serums. It replaces the harsh manual exfoliation and extraction procedures common in other facials. It also replaces microdermabrasion and instead of relying on an abrasive diamond tip to remove dead skin, it delivers various proprietary serums that help to dislodge dead cells and excess sebum while a suctioning action removes them from the skin. You're left with a deep cleanse without any of the pinching, pulling or pain. This makes it especially ideal for people with sensitive skin. The treatment ends with an application of a serum that is rich in antioxidants, peptides and hyaluronic acid. This is designed to maintain the results and give skin an immediate healthy glow.
What Are the Steps Exactly?
We won't give away our signature secrets, but here is a basic protocol most often used.
First, the skin is cleansed and degreased. The vortex tips drive in a proprietary blend lactic acid, malic acid and algae extract among other ingredients to start exfoliation and begin the unclogging pores, break down impurities and prep skin for next steps. This process is safe enough to not provide any downtime, but effective enough to really get in and deep clean.
The second step is to apply a medical-grade peel of glycolic and salicylic acids to gently remove dead, dull skin cells. This powerful exfoliation leaves your skin brighter, softer and noticeably improved.
This is followed by the patented vortex vacuum extractions, which unclog pores without pinching and redness that are typical in other facials.
Lastly is the infusion of powerful antioxidants, peptides and hyaluronic acid. Before you walk out, your skin is also prepped with a hydrating moisturizer and SPF. The best part? You are able to go back to work right after your treatment!
Who Is a Good Candidate?
This treatment is truly great for all skin types, the HydraFacial treatment is not only effective at improving overall skin health, but it is also excellent for remedying fine lines and wrinkles, skin tone evenness, skin texture, elasticity and firmness, hyperpigmentation, oily skin, enlarged pores, and advanced signs of aging. It is also a great treatment for darker skin tones and helps to lighten post-acne hyper-pigmentation. The best part – it's not just a quick fix-it procedure; this treatment improves the quality of your skin, actually helping to make it healthy.
How Many Treatments Are Needed?
While you will notice immediate results, for more severe aging and hyper-pigmentation or acne treatment needs, it is recommended to schedule a series of treatments, they can be done as often as at least one every 2- 4 weeks or every 6-8 weeks to dramatically improve the quality of your skin.
How Can I Find a Provider?
Co-Founders Andrea Jordan and Susie Petersen of Jordan & Petersen Skincare have locations in West Los Angeles and San Antonio, if you live in those areas, we would love to see you!
Click here to book:
https://jordanpetersenskincare.com/pages/book-now
If you're not in either of these areas, please go to:
https://hydrafacial.com/find-a-provider/ to find a provider in your area.