News
Still Dealing with Adult Acne?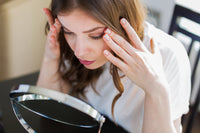 Wondering why you have to navigate acne again when you already went through this as a teen? There are multiple reasons that can factor into adult acne breakouts and you will find that you're not the only adult still dealing with zits.
It seems that adult acne has been on the rise for the last couple decades and sorry ladies…… sometimes lasting into menopause.
Some of the Top Reasons for Adult Breakouts: 
Stress- we take for granted what our stress levels are. In this day and age of "insta-access" to everything, we have become so accustomed to juggling everything that we don't realize the effect it's having. Stress can cause testosterone levels to change and this can cause breakouts from oil glands being stimulated and overproducing.
Hormones- fluctuations due to women's cycles, changes in testosterone levels, including the testosterone spikes mentioned above are the common reason for the formation of cystic type acne around chin, neck, and jawline.
Environment- Let's face it there is a lot of pollution out there, especially in the city and it all adds up. Along with makeup, sunscreen and changes in humidity or general seasons this is all adding to causes of breakouts.
Yo-Yo Skin- a common issue we see with our clients in our facial treatments is mismanagement of product use, often clients aren't clear what the job actually is of a product they use and what to expect. Often, they are using products that are too active for their skin type and then cause the balance to be off, thus leading to breakouts. Just because something has 'transformed' your friends' skin doesn't mean you will yield the same result. Once skin shows signs of acting up, we see a pattern of clients then buying acne products to counteract intermittent breakouts and well……turns into what we call Yo-Yo skin …skin so out of balance it can't find it's normal place.
Over washing-Please don't over wash your face, it's stripping the natural oils off actually causing your oil glands to start producing more oil in an effort to balance out.
Allergies- these days we are all more aware of common allergies whether its to gluten, dairy, grains….we usually have a sense of what aggravates us so trust your instincts. Environmental allergies may cause you to need antihistamines, which can dehydrate you and increase sensitivity. Be conscious of things that may inadvertently cause changes in your skin.
Easy Solutions to start with:
Spot treatments- over the counter acne treatments with salicylic acid is a great start. Our Blemish Gel helps unclog and exfoliate but will be gentle enough to use on most skins. Benzoyl Peroxide can sometimes work well for spots, but be careful it can often make you sun sensitive and may be too drying on the surface rather than break down and heal blemishes.
Anti-inflammatory Products- products that fight inflammation, swelling and redness to calm skin can help bring down swelling of unexpected breakouts.   Our clients love Clarity Toner, which not only calms, but also combats bacteria with colloidal silver.
Don't Extract a Cyst-Please don't try and extract cysts on your own, oftentimes clients end up brewing a cluster and/or cause more inflammation and infection. Please consult your esthetician or dermatologist for help.
Exfoliate-A great exfoliant with glycolic or AHA's will help overall skin tone and guard against breakouts. Exfoliants turn over cells and reduce build up. At Jordan & Petersen we have Refine Overnight, which is balanced and buffered with hyaluronic acid to reduce irritation.
Sunscreen-While breakouts are healing, please use sunscreen to help with healing and avoid brown spots. We always prefer mineral sunscreen with zinc and titanium dioxide. Zinc is actually a healing ingredient and can help add to calming skin.
Hormones-If hormones are adding to breakouts and these solutions don't help, think about consulting a doctor.
We hope some of this information will help you pin down aggravators that may contribute to your skin issue. It's always a good idea to find a good esthetician who can help clear out and rebalance your skin. We are always happy to answer questions at Jordan & Petersen Skincare, please email us at info@jordanpetersenskincare.com